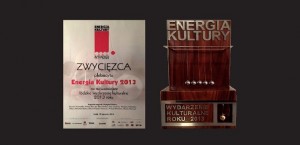 On 10th of January 2014 Festival was honored with the prestigious award in the 5th edition of "CULTURE ENERGY" plebiscite. Large format projections on the Square of Freedom during the 3rd edition of Light. Move. Festival. Became the most important cultural event of 2013 in Łódź. The plebiscite was organized by: National Centre for Culture (NCK) Gazeta Wyborcza Wytwórnia Club Toya TV.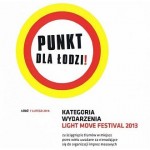 On the 7th of February 2014 Light. Move. Festival. 2013 received "POINT FOR LÓDŹ" – plebiscite appreciating the initiatives well to be emulated. The Price was given for gathering crowds in the place mostly concerned as impossible to be used for the mass events.
On the 12 of February 2014 the most interesting events/people/bands/places were awarded in "STICKING PLASTER OF CULTURE" plebiscite. Light. Move. Festival.Łódź.2013 was the winner of "Mainstream of the year" category. The organizer was Plaster Łódzki internet cultural portal.
Thank you for all your votes, good words and support. Thanks to you and moments like this we know that we know that it is worthy to do this Festival!